GPS Location Tool N・E・W・S MAP
 Leverage your GPS system. The application can immediately check the current position and the pre-registered route.
Application Features
See pre-registered courses while walking

Set routes to spots which have been already registered

Read information and see pictures of registered routs

Displays the current location of all members of the same group

Send messages to all members who belong to the same group

This application is free and it requires a separate "agreement service provider" in order to run the program
Agreement Service Provider Registration
Please go ahead and register in order to utilize the application

Without accepting the agreement it will not be possible to see the location

The program will try to stops GPS data related spoofing
Applications
Rally

Set long distance courses including check points. Participants can see the checkpoints and everyone within the group can see the current location of each participant in real life.
If checkpoints are changed via web, participants can still see the changes through their handsets.

Private Use

You can create a group within your family and see where your kids are and what they are doing during extracurricular activities, traveling, after school etc

Supply Chain Operations / Fleet Management

Great management tool for operations. Reporting feature of departure, arrival and delivery that can be set and edited by the administrator at any time

Gives the possibility to manage whole fleets within the same interface

Manage different fleets depending the areas and products of delivery

See the time, speed, distance, altitude, even temperature if needed at almost real time

Sales Management

Manage sales employees. Gives the possibility to track people or vehicles at any time

Human Services

See the situation of the people with special needs. Easy to see their location and contact them anytime


Event Management

Perfect for organizing, tracking and coordinating all related to your events. Create different groups according to the purpose of each group and send messages to the same members of each group

  This system has much type of applications that can be adjusted to your business. If you are interested in this platform, do not hesitate in contacting us. We can adapt the platform to your needs

Images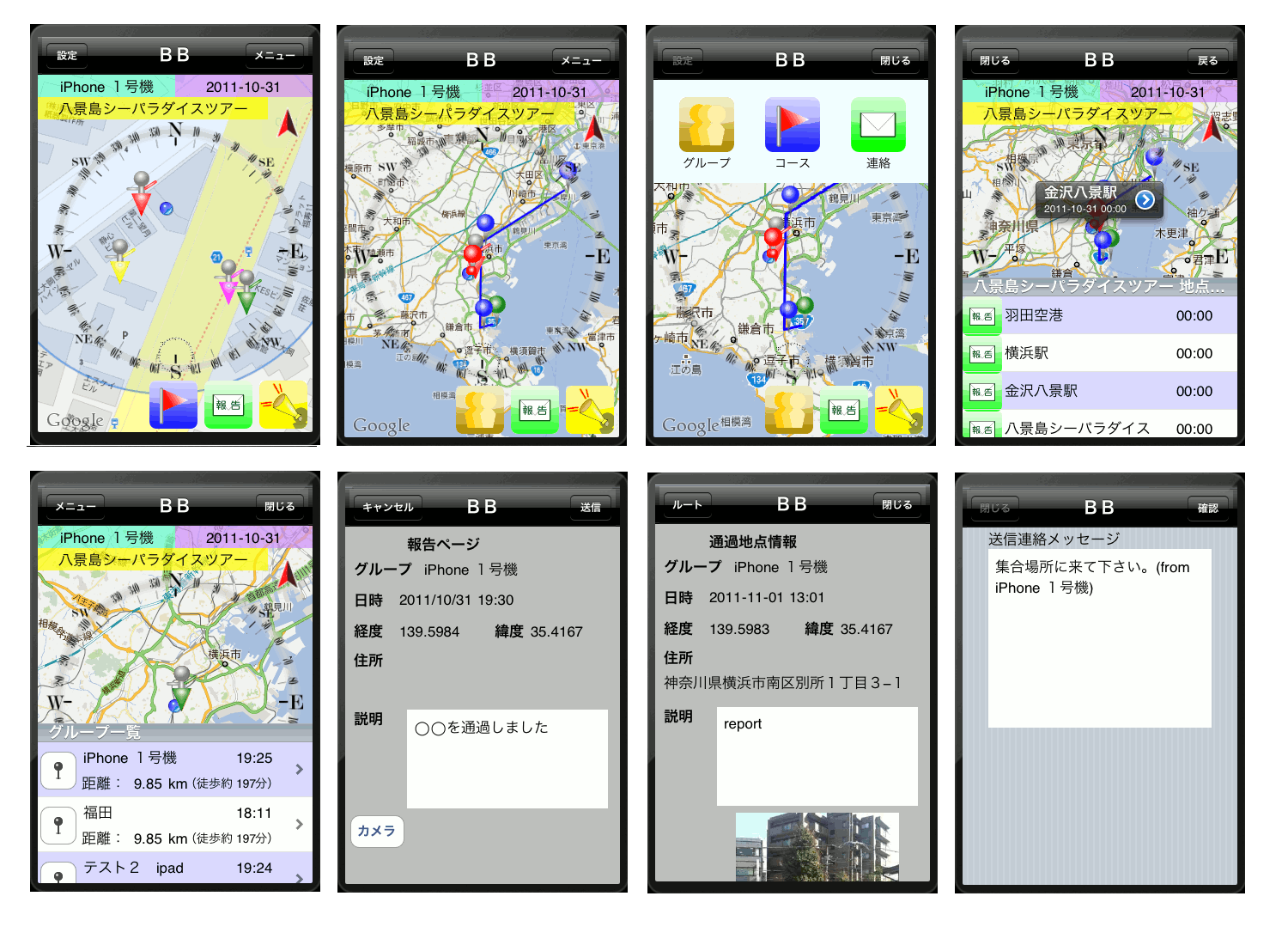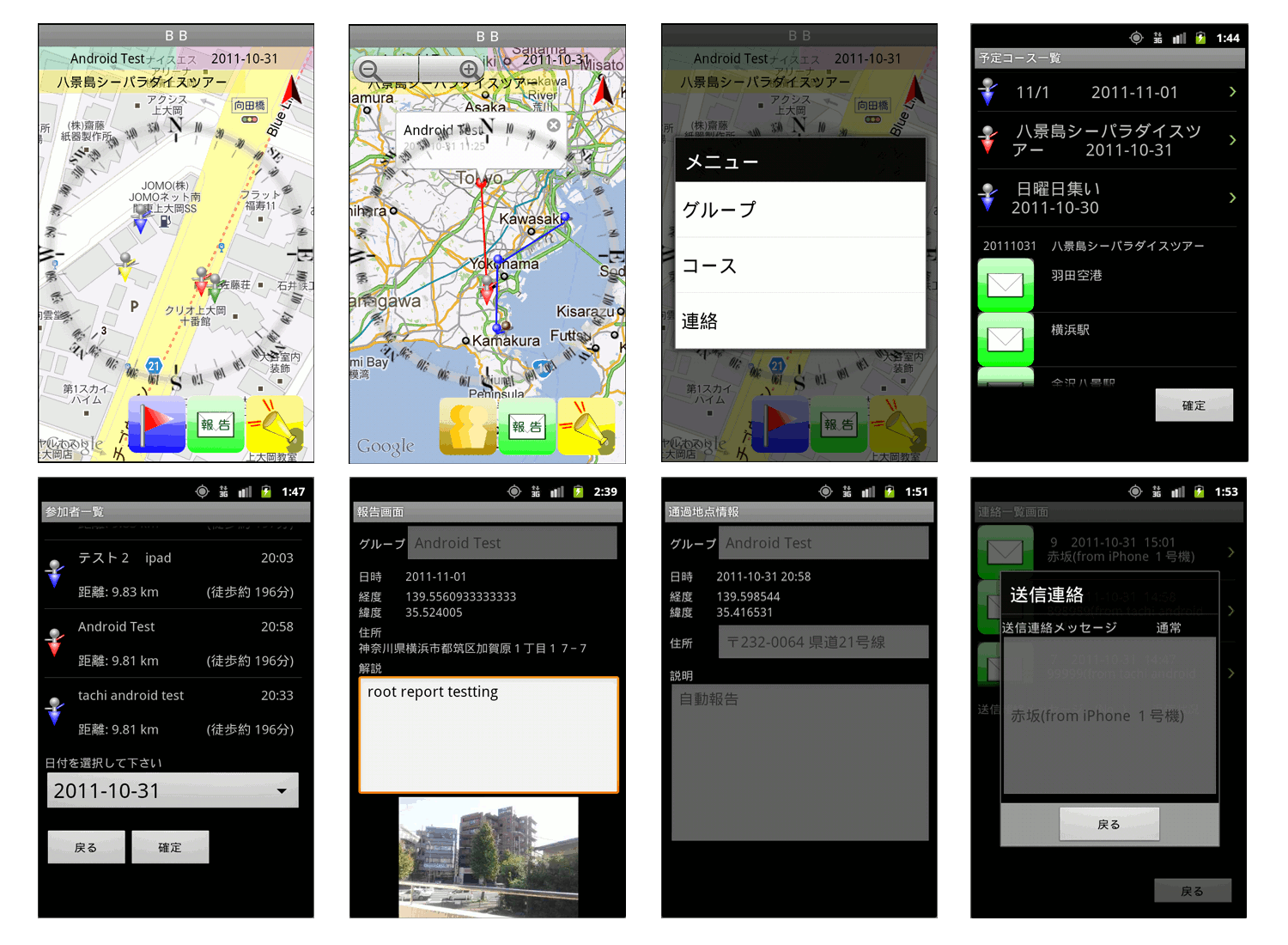 Rates
Individuals: Registration: 1,574 (Tax Incl.), Monthly fee: 1,050 (Registration Included)
Corporations: For companies we have a different system. Kindly contact us for more information
Operating Environment
Platform
iPhone(iOS4.2~)
iPad(iOS4.2~)
Android(Android OS 2.2 ~)
Web Browsers Supported

IE8.0 and above
Chrome13.0 and above
Firefox5.0 and above
Safari5.0 and above
※The checkpoint registration feature might not be available for some handsets.
Notes

Please contact us if you need information of how to use this application

Usage of this application for commercial purposes (even if combined within another application) is prohibited

We do not modify, decompile or re-engineer this application.

Contact us by phone

    Operation Hours: 9:00~18:00 / Holidays: Saturday, Sunday and National Holidays.

E-mail contact information

In order to be able to contact you, please leave your name, company name, e-mail address and a phone number.

(Content within the e-mail including your name and contact information will not be shared with third parties).

Android OS App Installation Manual

You can download the application by loading this webpage from your Android browser or you can use a QR reader and scan the code at the top of this page. After you are re-directed to the download page please follow the instructions in the following images.


Download



Start Download



Downloading...



Download Start



Application Upgrade



Installation Start



Installing...



Installation Finished



Done!